Peter Young Shig O. - Acupuncturist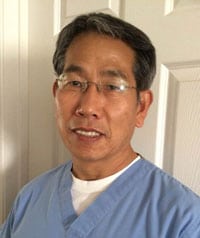 Our acupuncturist, "Peter" Young Shig O, has been a licensed acupuncturist in California since 2005.  Peter received his Master's degree in Acupuncture and Medicine from Samra University of Oriental Medicine.
Peter was on the medical staff at Orange Coast Memorial Hospital from 2008-2013, a volunteer at Orange Coast College in Special Physical Education Adapted Activities class from 2008-2012 and a volunteer at the Korean American Senior Association of San Diego for over 4 years.
Peter's treatment specialties include acupuncture, acupressure, herbal medicines, moxa, cupping treatments and acupuncture facelift.  He works in conjunction with Dr. Hee's pregnant patients in helping treat pregnancy related issues such as morning sickness/nausea, heartburn, breech positioning, and helping to start labor with overdue babies.
OFFICE HOURS
---
Monday
9:00am - 1:00pm
3:00pm - 6:00pm

---
Tuesday
9:00am - 1:00pm
---
Wednesday
8:30am - 1:00pm
3:00pm - 5:00pm
---
Thursday
1:00pm - 5:30pm
---
Friday
8:30am - 1:00pm
3:00pm - 5:00pm
---
Saturday
Closed
Bernardo West Chiropractic
11770 Bernardo Plaza Court, Suite 351A
San Diego, CA 92128
(858) 673-1733